Application for Old Trafford Match Tickets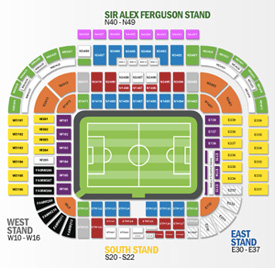 Members can apply for tickets of home games of Manchester United through MUSCHK before the application deadlines specified below. As there are quota for the Cat A matches (Match against Chelsea, Arsenal, Man City and Liverpool), there will be two rounds of application and priority will be given to applications received in the first round. After the first-round application deadline, members would be informed of whether there would be sufficient quota for their applications. If there are quota left after the first round, applications will be received on a first-come-first-serve basis in the second round. For non-Cat A matches, members can apply for tickets through MUSCHK or through the homepage of Manchester United.
Each member can only apply for one ticket for each game. The seat will be arranged at the discretion of Manchester United but normally it will be located at East Stand Tier 2 (Row 28-40), Northeast & West Second Tier Quadrants (Row 34-43) or Sir Alex Ferguson Stand Stand Tier 3 (Row 13-19). Please refer to the table below on ticket prices. FAQs on purchase of match ticket can be found at the homepage of Manchester United
Members Match Ticket Prices
| Membership | Price |
| --- | --- |
| Adult | £31 - £53 |
| 65+ / 16-17 | £17 - £23 |
| 18-20 | £24 - £40.5 |
| Junior(Under 16) | £13 |
*Price included the £5 discount for official members. Final charge would be depended on the seat allocated by Manchester United.
[space]
Home Game Application Deadline
entative match dateHome gameMUSCHK application deadline
11.4.2015
Manchester City

(Class A match)
Application closed
16.5.2015
Arsenal
(Class A match)
Application closed
Ticket Application
Please complete the form below to apply for match tickets. The information provided by members, including credit card information to be provided at a later stage, will be passed to Manchester United for match ticket application. Please note that the purchase of match ticket is a transaction between members and Manchester United. Match Ticket Terms and Conditions can be found at the homepage of Manchester United.
The role of MUSCHK is purely to assist members to submit their application information to Manchester United. No service fee will be charged by MUSCHK. MUSCHK will not be responsible for any problems or disputes arising from the transactions.
Oops! We could not locate your form.
MUSCHK will normally contact the applicant within two days. If no reply is received after two days, please contact us immediately to ensure that your application is received by us.